Wow, what a night! Eindhoven surely knows how to play. Close to 1400 people joined the 7th edition of Quiz Night XL. After an exciting battle this mega-quiz was won by the Philips team 'De Zesjescultuur'!
A total of 272 teams of 5 people competed in this unique Science & Technology knowledge quiz during the Dutch Technology Week. A wide range of regional tech companies took part in Quiz Night XL: from Intel to DAF, from TNO to NXP and many more. Main partner of Quiz Night XL; Sioux participated with a whopping 16 teams – a great turnout. Their top scoring team finished in 8th place, an impressive result!
As always, Quiz Night XL was hosted by Number 42's Julinka van Keulen, supported by 'rockstar of technology' Maarten Steinbuch. In this year's edition of Quiz Night XL we played with solar sails, rubik's cubes, fast cars, powerful rockets and the technology of the future!
Quiz Night XL was won by the Philips team: De Zesjescultuur. A team of 5 gentlemen, lead by captain Bart Salters of Philips. They were given the choice between two grand prizes; a hot air balloon ride, offered by the Ministry of Defense or a set of five Oxboard's One, offered by Quiz Night XL's partner GBO Innovation makers. The proud winners went with the high tech gadgets and took home the Oxboards. And with that, the hot air balloon ride was awarded to the winners of this years' Bright Future Award (average age ≤ 25), which was won by Team sTU/eff (a TU/e team). The final ranking is online now!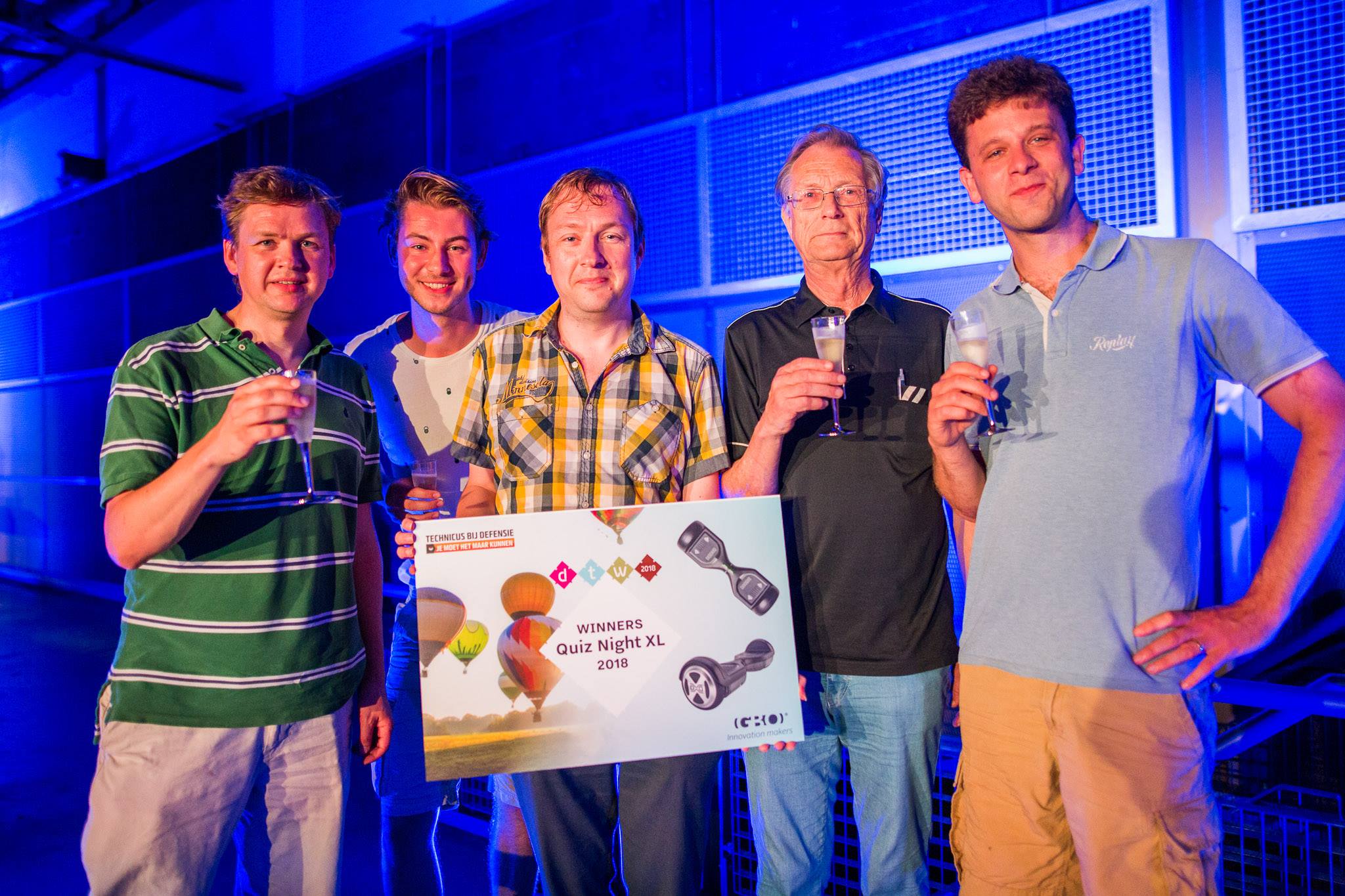 The competition this year was fiercer than ever before. All the winners of the previous Quiz Night XLs were represented in this edition, including two-time Philips winners 'Spons Bob Blok Broek'! The entire top 3's scores were less than 10 points apart. When you can score 10 points on the average question, that means the difference is really minute. It proved a true battle of the titans at Eindhoven's very own 'High Tech Olympics'; where even being seconds faster than the other team can make the difference!
The 2017 edition of Quiz Night XL was won by the ASML team 'Prodmonsters' and for a long time, it looked like they might repeat that performance! In the end, they had to settle for second place in the overall ranking. It was still an incredible performance and the ASML team were rewarded with a fun prize package courtesy of none other than Philips! An overview of all awarded prizes can be found here.
Quiz Night XL was made possible by 5 partners who all contributed to the quiz with fun questions and cool demos as well! We welcomed Punch Powertrain back as a partner for the second year in a row and were very pleased to welcome GBO Innovation makers, PwC and Rabobank as new partners. The night would not have been possible without the support of our main partner Sioux; who presented several fun questions and even treated the audience to the world premiere of their award winning corporate film "We bring high-tech to life".

Special thanks goes out to the team of question writers and testers and of course to our volunteer crew who helped make sure everything ran as smoothly as possible.
We are already looking forward to Quiz Night XL 2019!